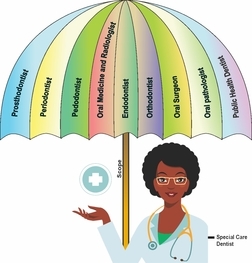 The name of the society will be "Federation of Special Care Dentistry (FSCD)". This society is dedicated to people with disabilities irrespective of their age group. "Health is a basic fundamental, and oral health forms an integral construct of the general health of people with disability".
Health is a state of complete physical, intellectual, and social well-being, not merely the absence of disease or infirmity, to lead a socially and economically productive life. In Universal Health Coverage's spirit, all society sections are bound to be included to get equitable and proportionate access to affordable healthcare through accessible channels and acceptable preventive and curative methodologies. Every healthcare professional should uphold this right. The FSCD will have the solemn responsibility towards maintaining the positive oral health of persons with disabilities through prevention, community involvement, through other necessary measures to achieve this objective. Its expanded function would integrate oral health and general health to provide holistic health outcomes to this community. The FSCD will endeavour to provide a suitable platform for honouring the commitment and dedication; it has so sacredly undertaken the responsibility for the well-being and development of the FSCD.
The association shall be responsible for improving education, research and delivery of oral health care in the field of inclusion and healthcare of people with disabilities, special needs, and other developmental disorders. It shall align and shall extend cooperation and collaborate with any individual, group, or organization, national or international, with similar ideas, ideals and objectives, and ideals, goals.
FSCD is a global association of health care professionals that work for the well-being of individuals with special care needs. FSCD works to improve individuals' quality of life with behavioural issues, systemic disorders, ageing, multiple medications, medically compromised patients, and individuals with intellectual disability worldwide.
FSCD Works
To create the platform for healthcare professionals working in the field of special care dentistry worldwide
To develop a curriculum on special care dentistry for dental students
To embolden research in the field of special care dentistry
To promote relations with healthcare and its allied societies, NGOs, and special schools
To encourage the oral health of individuals with special needs of all ages
To improve the quality of life of the individuals with special care needs
Sunshine Smile Exhibition