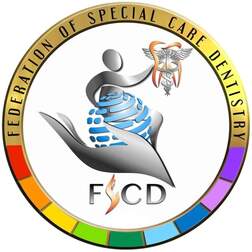 Federation of Special Care Dentistry has a mission for Inclusion, Involvement, and Integration. A journey to uphold the ethos of the highest nature – service to humankind. Federation aims to brings together the practitioners from all walks of life, to engage, collaborate, & work towards a common purpose of Inclusive Oral Health, covering the complete spectrum of people with special needs. With an ardent passion to serve and a dedicated approach, this Federation involved zealous entrepreneurs with an aim to leave no one behind.
Dentistry for the differently abled is a challenging, yet highly satisfying, for it requires engagement & collaboration between the practitioners, patients & their caregivers. Here at FSCD, we promote a holistic approach to dealing with individuals with special care needs. Strenuous research, planning and evaluation contributing to designing a safe space for such people along with a 360° approach to their treatment from care to cure makes this federation one of a kind.
The medical and dental symbol amalgamated to signify a multidisciplinary approach to be implemented when tending to special needs individuals and that dental health plays a cardinal role in maintaining a superior systemic health.
The hand signifies that the intent is to not only provide consciously designed oral health care facilities to individuals with special health care needs but to do so with empathy, sensitivity and meticulous attention.
The rondure signifies that this integration of the health care unit with the dynamics associated with special care people is not pertaining to a single state, country but a decorum to be maintained globally.
The personage is the pivot of the initiative, we as health care professionals have to be cognizant to the dynamics and multidimensional requirements of the impaired/disabled and uphold the concept of their inclusivity over bigotry.
The color of rainbow paneling the symbol signify that the care so provided is stratified rather than through a mainstream approach and that it involves education to prevention to treatment to rehabilitation.