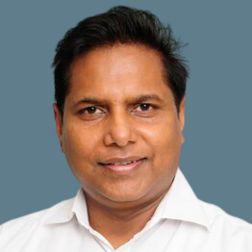 Dr. Gyanendra Kumar
MDS, MFDS, RCPS(Glasgow, UK)
Profile Description
Dr. Gyanendra Kumar is currently working as an Associate Professor in the Department of Pediatric and Preventive Dentistry at Maulana Azad Institute of Dental Sciences, New Delhi, India. He obtained his BDS degree in 1996 and MDS degree (Pediatric Dentistry) in 2002 from the King George Medical College, Lucknow India. He is a trained professional in Dental Laser from Auckland, New Zealand in 2015 and in Conscious Sedation from Riley's Children Hospital, School of Dentistry at Indianapolis, USA. He is certified in all aspects of Infants Oral Health Program form UCLA, USA. He has been awarded with prestigious fellowship MFDSRCPS from Royal College of Physician and Surgeons Glasgow, UK and is an esteemed fellow of the International Medical Sciences Academy (IMSA).
His research interests include surgical management in Pediatric Dentistry using Dental Laser and Pediatric endodontics using scanned electron microscopy. He has completed appreciable number of National and International projects funded by Government of India. He holds various posts in reputed dental organizations such as member, PR committee of International Association of Pediatric Dentistry, Joint Secretary of Indian Society of Pedodontics and Preventive Dentistry (ISPPD) and President of Indian Dental Association Delhi (IDA).
He is founder of the South Asian Association of Pediatric Dentistry. He is also the past secretary and current Vice President of National Medico Organization. He holds various membership affiliations such as Life member IDA, Life Member, ISPPD, DUTA, Life member SAAPD,IAPD and Member of Academic Council, Rajasthan University for Health Sciences, Jaipur. He holds numerous national and international publications in his credit and has served as a DCI inspector, principal examiner, visiting faculty and examination controller for various university exams all over India.