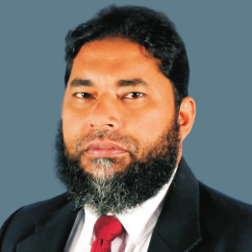 Profile Description
Dr. M.B. Abdul Wajith, Medical Administrator, Deputy Director of District Health Services – Puttalam, Sri Lanka. Dr. Abdul Wajith graduated from faculty of Dental Sciences, University of Peradeniya, Sri Lanka in 1997. He has been serving the government of Sri Lanka from 2000 to 2012 as Dental Surgeon in the curative sector & in the Preventive sector. During his government service, he had part time private practice more towards pediatric dentistry and special care needed people dentistry.
He completed Postgraduate Diploma in Hospital Dental Practice at PGIM, Colombo in 2013. After this he was promoted to serve in managerial capacity of oral health services at district level. He served as Regional Chief Dental Surgeon in several districts and worked as district manager for oral health services planning, monitoring, implementing and evaluating specially related to school children & elderly population.
As he involved in lot of administrative works in dental services & in public health, he has been promoted to medical administrative grade by the Ministry of Health from 2019 and serving as medical administrator till date. He is a life member of Sri Lanka Dental Association, Sri Lanka Association of Advancement of Science, Sri Lanka Association of Aesthetic and Cosmetic Dentistry, Kandy Society of Medicine and Sri Lanka College of Medical Administrators. He was one of the country delegate for APDC, Singhapor (2015) & SAAPD, Katmandu, Nepal (2019). His interests in special care dentistry for Children & Elderly population and in Dental Public health made him to join as Country Ambassador for FSCD to propagate & organize local resources to serve the region and globe.