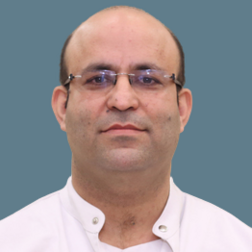 Dr. Manesh Lahori
MDS, FICOI, FISOI,
FAOI, FICD, DAOI
Profile Description
Dr. Manesh Lahori completed his bachelors in 1996 from A.B. Shetty Memorial Institute of Dental Sciences, Mangalore under Mangalore University. He went on to pursue his masters in 1999 from the same institute in the speciality of Prosthodontics. After his post-graduation, he started his academic career from Santosh Dental College in the year 1999. He was associated with the same institute till November 2002. In December 2002, he started working as Senior Lecturer in K.D Dental College and Hospital, Mathura. His passion in academics took him to the post of Director, Principal & Dean in the year 2015 and since then he has been instrumental in making K.D Dental College & Hospital one of the prime institutions in North India. He has also been involved in organising various CDE programmes and International conferences at the Institute. With the vision of providing oral health for all, his college, under his guidance, have opened six satellite centres to provide oral health to the rural parts of our country at free of cost.
Under his guidance, his institute's the only institute in Uttar Pradesh to have a satellite centre in District Jail, Mathura. Dr. Manesh Lahori has been strongly associated with his speciality i.e. prosthodontics, at both state and national level. He was instrumental in starting the UP prosthodontic society and has been the President of the same society. At the national level, he was the Executive Committee member offrom 2014-2018 and further on, he went to serve as the vice president for two consecutive terms of the Indian Prosthodontic Society. He is also one of the founding members of the Academy of Oral implantology, Delhi and has also served as the president and conference chairman for two terms. He is also the Section Editor of the Journal of Indian Prosthodontic Society, Assistant Editor of Journal of Oralimplantology and Clinical research and the Editor of Journal, Guident India.
He is the fellow of International Congress of Oral Implantology which he received in Taiwan, fellow of Indian Society of Oral Implantology, fellow of Academy of Oral Implantology, Fellow of International College of Dentists and Diplomate, Academy of Oral Implantology. He has numerous projects done under his guidance and he has more than 100 publications to his credit. He is also in process of writing a book on pre-clinical prosthodontics.