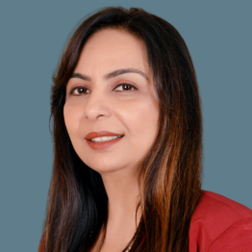 Dr. Mridula Goswami
MDS, FICD, DHM, MFDS RCPS (Glasg)
Profile Description
Dr. Mridula Goswami is a Graduate and Postgraduate in dentistry from Mumbai University & completed Masters in the year1998 in Paediatric & Preventive Dentistry. Her academic career has many medals & awards. To name a few, IDA Scholastic Award -Late Dr. R.M. NarielwalaPrize , Certificate of Honour from Colgate Palmolive (INDIA) Ltd and Silla &Minoo Mistry Memorial Award for academic excellence. She was awarded Gold Medals in the subjects of Pedodontics & Oral Pathology and has been into academics for the last 23 years.
She is further qualified with 'Diploma in Hospital Management' from Ministry of Health & Family Welfare, India. She is a Certified Hypnosis & NLP Practitioner by Indian Board of Hypnosis & Neuro Linguistic programming. She is a Member of Royal College of Physicians & Surgeons, Glasgow(UK). She was Awarded the Fellowship of "International College of Dentists" (ICD) and Awards received recently are "Best Faculty"Award, Award for Excellence in Research and She received COLGATE BRIGHT SMILES, BRIGHT FUTURES AWARD as Finalist, at 27 th Congress of the International Association of Paediatric Dentistry(IAPD) held at Cancun, Mexico, July, 2019.
Apart from various international and national publications, she has contributed Chapters in popular Textbooks & serving in various capacity for Editorial & Reviewer boards. She remains as Panelist in various Govt universities & organizations like UPSC, National Board of Examination etc. She is currently serving in the Membership Committee of IAPD & serving ISPPD as the Ethical Committee member. She is working as Senior Prof. & Head, Dept. of Pedodontics & Preventive Dentistry, Maulana Azad Institute of Dental Sciences. New Delhi.