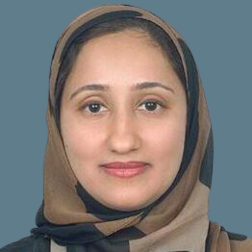 Profile Description
After receiving her bachelor's degree from Rajeev Gandhi University in 1997, Dr. Rifat started her journey of clinical dentistry as an associate dentist with the senior, renowned Dr. S Nadkarni at his busy private practice in Vile-Parle, Mumbai. By 1997, she established and successfully conducted her practice in Malad suburb of Mumbai, utilizing the combination of exponential increase in clinical experience and continual advances in knowledge, gained from her mentors. In 2002, she joined the dental dept. of Zulekha group of hospitals, based in Sharjah, UAE, soon assuming responsibilities of HOD and Quality Coordinator for the dept of Dentistry.
Despite having excelled at and enjoyed hospital-based clinical dentistry and being at the forefront of all quality improvement and CSR activities with the organization for over 19 years, Dr. Rifat was troubled by the obvious deficit in the needs versus provision of oral care for people who are challenged by a multitude of limitations and challenges in routine health care settings. Since older adults form an increasingly significant component of this population, in 2016, she embarked upon the master's program in Geriatric Dentistry from University of Southern California, LA, and graduated in May 2019.
During the course of and following her master's degree, she co-authored research on "Association of oral health and nutritional status in older adults: A systematic review with meta-analyses", accepted for publication in Journal of Prosthodontic Research. Through collaboration and participation with FSCD, Dr. Rifat is determined to bring together skills, education and experience of like-minded, compassionate and committed individuals, towards a long-cherished, shared dream of improving oral health-related quality of life for the most vulnerable and under-served population world-wide.