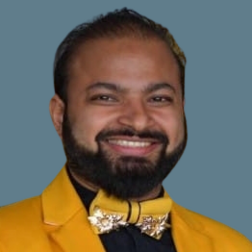 Profile Description
Dr. Vaibhav Kumar is a Dental Public Heath Specialist, Research Consultant and Preventive Dentist based out of Mumbai, India. He is a gold medalist from the prestigious KLE University, Belgaum, from where he completed his academic stints and currently serves as an Assistant Professor at the TPCT's Terna Dental College, Navi Mumbai. He is one of the youngest fellows of the prestigious Royal Society of Public Health (FRSPH UK) and the Pierre Fauchard Academy.
He has undergone extensive training, over and above the academic syllabi, in biostatistics and epidemiology for clinical and public health research from Christian Medical College, Vellore and Massachusetts Institute of Technology.
He is the National Scientific Officer of the Indian Association of Dental Students (IADS-India). He has over 25 publications to his credit, in international and national journals of repute. He has one over 30 best paper awards at various scientific podiums and fora. He is the proud recipient of the Colgate Palmolive MDS Research Grant and has been the top four Pan-India finalists at the Sun Pharma Science Scholar Award for Young Scientists2017 in the sphere of biomedical sciences.
He is the proud recipient of many awards, including the Famdent Excellence in Dentistry Award, IDRR Young Researcher and Budding Dentist Award, Bite-In Award, Guiding Award for excellence in dentistry, the IADS Pan-India award for best PG student and the Indian Health Professionals Award for Rural Dental Service.
He has also received the Indian Society of Periodontology and Indian Association of Oral Medicine and Radiology Student Merit Awards and was honoured with the Pierre Fauchard Academy Undergraduate Certificate of Merit for outstanding academic achievements. He has also won the International College of Dentists Bronze Plaque Award.
He is the Director of Suitradhaar Strategies Pvt Ltd and mentors clinicians and academicians from various fields of healthcare regarding the various arms of research, medical writing and publications; and Intellectual Property Rights in Biomedical Sciences. He has been invited as a guest faculty and resource person for the same at many institutes, NGOs and national level conferences.
He has been on the executive organising committee board of various national and international conferences. He recently was the Organizing Secretary for the IADS Symposium on Dentistry for children with Special Health Care Needs organized at Terna Dental College, in collaboration with iADH India and Special Olympics, Bharat.
He has appeared as as guest columnist/ expert opinion writer at many popular news portals such as Mumbai Mirror, Deccan Chronicle, Asian Age, Deccan Herald and Sakaal Times. He has been part of several community oral and general health projects. He is a life member of the Indian Association of Public Health Dentistry.
He is a reviewer of many national and international journals and has undergone training for Good Clinical Practice. He also contributes his research bent of mind as the Clinical Research Coordinator at The Esthetic Clinics, Mumbai.
By striving to seek, to find and not to yield, he envisage to outclass in the arena of Dental Sciences and Public Health, stressing upon evidence-based research and problem based learning. He aims to partner and collaborate and stress on interdisciplinary and intersectional research activities to expand the knowledge base, to facilitate mobilization of resources and render operational amiability – to crusade for promoting the gospel of oral health, general well being and preventive protocols.