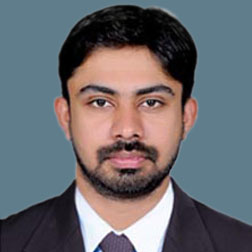 Dr. Varun Menon P.
B.D.S., MDS,MFDRCSI(Ire),MOMSRCSEd(Edin), MFDSRCPS(Glasg),MFDSRCSEd(Edin),
FIBCSOMS,FAOCMF,F.P.F.A (USA)
Profile Description
Dr Varun is a Cleft & Craniofacial Reconstructive Surgeonaccredited by SmileTrain. He is currently an Assistant Professor at the Department of Charles Pinto Centre for Cleft lip & Palate & Craniofacial anomalies,Jubilee Mission Medical College & Research Institute and is a practicing consultant specialising in Oral and maxillofacial surgery and Implantology.
He is a certified Fellow of the International Board for the Certification of Specialists in Oral and Maxillofacial Surgery (FIBCSOMS)Fellow-Elect of the Academy of Dentistry International, Fellow of the Pierre Fauchard Academy (USA), AO fellow Cranio-Maxillofacial Trauma & Reconstructive surgery (Basel & Taiwan), and Affiliate Associate Fellow of American Academy of Implant Dentistry (AAID). He is a member of Royal college of surgeons Ireland MFDRCSI(Ire), and has a Membership of Faculty of Dental Surgery MFDSRCPS(Glasg),The Royal College of Surgeons of EdinburghMFDSRCSEd (Edin), Oral & Maxillofacial surgery MOMSRCSEd (Edin) The Royal College of Surgeons of Edinburgh, and is associate member of the Royal Australasian College of Dental Surgeons (RACDS). Academically astute with above credentials, he is presently pursuing DOCTOR OF PHILOSOPHY [PhD] from Kerala University Of Health Sciences.
He has received the Indian Professional Awards 2020 for Outstanding contribution in Oral & Maxillofacial Surgery, Sushruta Award for Young Dental Achiever of the Year at International Exemplary Research And Performance Awards 2018, Young Dental Researcher Award 2018 in the State of Kerala, Best PG student Oral and Maxillofacial Surgery at International Dental Students Congress 2016, Indian Dental Association (IDA) Profile of the month Award Winner June 2015
He has authored many Scientific Paper Presentations and Journal Publications in national and international journals and is Editorial and Reviewer Board member of various peer reviewed journals. He is a Scholar Member of WAME (World Association of Medical Editors), and
Elsevier Student Ambassador (ESA)
In addition to being a fine skilled professional, he also exhibits apt administrative abilities.