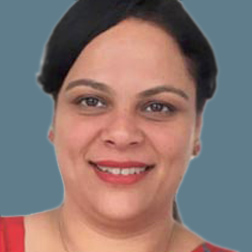 Prof. Dr. Panchali Batra
BDS, MDS, M. Orth (RCSEd)
Profile Description
Prof Dr.Panchali Batra B.D.S., M.D.S., M.ORTH (RCSEd) is a graduate of Subharti university dental college, U.P. She did her junior residency in Maxillofacial Department in V.M.M.C& Safdarjung hospital. She is trained in Orthodontics and Dentofacial Orthopaedics from JSS university Mysore, Karnataka in 2008 from she scored the best outgoing PG award. She then joined as a senior resident in Department of Orthodontics in Maulana Azad Institute of Dental sciences.
She cleared her Indian board of orthodontics board eligible exam in 2009 and also cleared the M.Orth exam from the prestigious Royal College of Surgeons of Edinburgh in 2010. She is currently working as Professor in Department of Orthodontics and Dentofacial Orthopaedics, Faculty of Dentistry, Jamia Millia Islamia, New Delhi, India since 2011.
Dr.Panchali has worked in major tertiary care Government Institutes of Delhi and is skilled in managing huge OPD's. She has consistently thrived to attain attributes of an outstanding clinician, dedicated teacher and a vigilant researcher. Apart from this she has organized various courses and conferences and has national and international publications to her credit. She is the reviewer and editorial board member of many international journals. She is the recipient of the prestigious George Jacobs award for clinical innovation in 2015 at 50th IOC at Hyderabad for inventing J molar Distalizer and Life member Research award for developing a new antimicrobial resin with silver nanoparticles at 52nd IOC Jaipur in 2017. Her research areas are nanoparticles, palatal impacted canines, class II malocclusion and cleft lip and palate. She is the recipient of 4 research grants and most prestigious being her multi-centre international collaboration with the University of Manchester UK on the Cleft Care in India funded by Ministry of Human resources and development(MHRD) under the Scheme for promotion of academic and research collaboration(SPARC). She has guided many students for paper presentations at various platforms. Her mission is to mould students into not only good academicians and clinicians but also world class researchers with high moral and ethical values in all spheres of life.