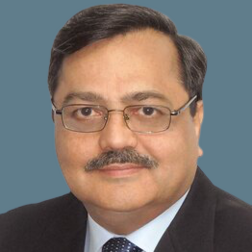 MDS (Lucknow), M Orth RCS (Edinburgh), M MEd (Dundee),
FDS RCS (Edinburgh)
Profile Description
Prof. O.P. Kharbanda obtained his  BDS Bachelor of Dental Surgery in 1976 with Gold Medals 2, Certificates of Honours 7, Book Prizes 3 and Merit Scholarships 2 followed by MDS in ORTHODONTICS in 1978, from prestigious King George's Medical College, Lucknow University, India. Later he obtained his M Orth RCS Royal College of Surgeons, Edinburgh, UK and M MEd, Master of Medical Education, University of Dundee, Dundee, Scotland, UK, besides advanced Certificate in Medical Education and Technology, from same Institute.  He has been conferred Honorary Fellowship FDS RCS: Fellow of Dental Surgery Royal College of Surgeons, Edinburgh, UK, FAMS: Fellow National Academy of Medical Sciences, India,  Fellow: Indian Society for Dental Research/International Association of Dental Research-Indian Division, FICD: Fellow International College of Dentists, India and Sri Lanka section, Fellow IBO:  Indian Board of Orthodontics Honoris Causa, Fellow WFO: World Federation of Orthodontists and  Fellow of the Pierre Fauchard Academy, India Section.
With his deep interest in Cleft Lip and Palate, he underwent an advanced Clinical and Research training in Cleft Lip and Palate care in 1995-96 as a British Commonwealth Medical Fellow, at Turner Dental School, Manchester UK, with Professor William C Shaw , Director Euro-Cleft. He is also the recipient of Visiting Scholarship award of the American Cleft Palate and Craniofacial Association, to have further training in USA and Canada. He is involved with cleft care since 1985 and continues to work in this area. He promoted interdisciplinary cleft care at forums such as Indian Orthodontic Society, Indian Dental Association and other academic and public groups. He worked closely with the Indian Society for Cleft Lip Palate and Craniofacial Anomalies, held several offices and rose to become President of the ISCLP and CA (http://www.isclpca.org/).
He organised ISCLP and CA national conference at AIIMS New Delhi and significantly contributed to the organisation of Asian Pacific Cleft Conference at Goa and International Cleft Conference, Mahabalipuram, Chennai. For his immense contribution in cleft care, Dr. Kharbanda was conferred with  Founders Oration of ISCLAP and CA. In his continued efforts to evolve treatment outcomes and lay standards of cleft care in India , he worked closely with the Indian Council of Medical Research and initiated multicentre India Cleft Project https://indicleftnic.icmr.org.in/. Under his able leadership, India's first advanced post-MDS fellowship was started at CDER, AIIMS. He guided and published research in CLP, and his book on Cleft Orthodontics,  Publisher Thieme (https://www.thieme.com/) is due to be released soon.
Prof. Kharbanda is a Visiting Professor/ Postgraduate Invited speaker to  Department of Dentistry and Oral Health, La Trobe Rural Health School, La Trobe University, Victoria, Australia (2018- ),  Visiting Professor: Faculty of Dentistry, Universiti Teknologi MARA (UiTM) MALAYSIA (2020-), Discipline of Orthodontics, Faculty of Dentistry University of Sydney, Sydney, Australia (2008–2017), Invited Postgraduate Faculty, Discipline of Orthodontics University of Western Australia Dental School/Oral Health Centre, Nedlands, Australia (2009–2017), Visiting Professor, Division of Orthodontics University of Connecticut, School of Dental Medicine, Farmington, Connecticut, USA (2009) and Postgraduate Orthodontic Program, Roseman University, Henderson USA( 2016, 2019).
He has delivered six prestigious orations and travelled across India and the globe, having delivered 250 + lectures and hands-on courses. He has more than 170 publications, including the textbook of Orthodontics, now in third edition Publisher Elsevier (https://www.elsevier.com/en-in/books-and-journals). He collaborated to create digital platforms "AutoCEPH" (http://ci.csio.res.in/), "CollabDDS" (https://collabdds.gov.in), and "Indicleft Tool" (https://indicleftnic.icmr.org.in/).
Prof. Kharbanda is on International Editorial Board of prestigious peer reviewed journals, Journal of Orthodontics (British Journal of Orthodontics), Australasian Journal of Orthodontics, British Dental Journal Open and Ad-Hoc Reviewer for American Journal of Orthodontics and Dentofacial Orthopaedics, European Journal of Orthodontics, Korean Journal of Orthodontics, Angle Orthodontist, Australian Orthodontic Journal, Progress In Orthodontics, J Asian Pacific Orthodontic Society and more.
Prof. Kharbanda stands tall for his selfless and dedicated continued contributions to the dental profession for advancing higher dental and medical education, dental research, promotion of clinical excellence, contributions to nation-building and advisory on oral health policy matters to Government organisations.