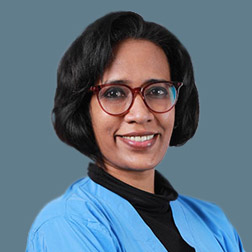 Dr. Premila Naidu
BDS, MDS – Paedodontics And Preventive
Dentistry Pediatric Dentist
Profile Description
Dr. Premila Naidu is a practising paediatric dentist and is currently the chief paediatric dentist at Small Bites, an exclusive dental centre for children in Bangalore. She completed her BDS and MDS (Paediatric and Preventive dentistry) from The Oxford Dental College, Bangalore, in 2009. With over 15 years of experience, including at Narayana Hrudyalaya Electronic City
And Fortis Hospital, Bangalore, she has worked extensively with the Down Syndrome Federation of India and various professionals providing care to special children.
Dr. Premila Naidu is highly equipped to manage children with behavioural issues, children with dental fear and anxiety and children with intellectual disabilities. She is an enthusiastic and motivated care provider who believes in seeing the world from the point of view of special children and learning from them to love unconditionally.
She has worked to build relationships with and treated many children with autism. She has given awareness talks at various events, to spread the message regarding the importance of early diagnosis and intervention. She is also associated with paediatricians, occupational therapists and developmental specialists for cross-references and to help parents get proper guidance. She is known to share knowledge-based practice and love with families, ensuring quality dental care for children with special needs.