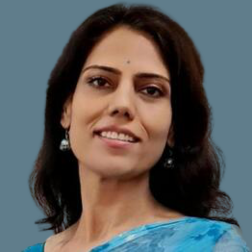 Profile Description
Dr. Sunali Khanna is an eminent educationist serving as a faculty member of the Maharashtra University of Health Sciences, India. She teaches and also undertakes research in the areas of oral medicine, maxillofacial radiology, trace elements and oral cancer at Nair Hospital Dental College, Mumbai, a premiere institute in India. During the earlier years she won academic distinctions and was recognized by the International College of Dentists. She became the first and only candidate to qualify the D.N.B ( Diplomate of National Board Examination) in Oral Medicine & Radiology till now. She has worked extensively towards the health care of elderly & marginalized sections of society. She has been awarded the membership of the National Academy of Medical Sciences, New – Delhi and has been nominated for the fellowship of the same. She is recipient of Maharashtra University of Health Sciences Teachers' Research Award (2014). She was awarded PhD by Maharashtra University of Health Sciences in 2018.
Being a keen environmental health scientist and activist, her research highlights importance of environmental health issues in the public sphere. She is the Convener of International Conference on Environmental Health Research held in 2011, 2012, 2014, 2015, 2016 2018 & 2019. The conferences attracted over 450 delegates and were aimed at development of environment health indicators to establish better links and improvement in the cumulative burden of environmental change and its impact on society. It also focused on development of approaches to integrating public concerns and precautionary principles into public policy on health. She has conducted surveys on Tobacco related diseases and cessation practices. She has co-authored HIV/AIDS manual for health professionals in association with Mumbai District AIDS Control Society which is a big step towards developing community awareness particularly among doctors in interior and remote areas. She has participated as resource person/panelist in health awareness programs on the National Television.
Her biography features in Who's Who in the World (Medicine & Healthcare), Silver Jubilee Edition 2009 and for consecutive six years. She is the President of the Asian Academy of Oral & Maxillofacial Radiology. She is the Chairperson of 16th International Symposium on Metal Ions in Biology and Medicine and 12th Asian Congress of Oral and Maxillofacial Radiology . She is the third time Vice President, and former Treasurer and executive committee member of the Indian Academy of Oral Medicine & Radiology.
She has contributed towards development of curriculum for Under and Post graduate dental surgery courses. She has been instrumental in designing training modules and suggesting reforms in higher education especially the prevailing examination system. She is on the expert panel of University Grants Commission of the federal government, which regulates and promotes higher education throughout the country. She has made distinguished/plenary presentations at 45 National and 43 International conferences in 21 countries across the globe. She has published 66 papers in reputed national (35) and international (31) journals. She has contributed chapters in textbooks of Cancer prevention (Trafford), Oral Radiology (Elsevier), Pediatric Dentistry & Oral & Maxillofacial Surgery. She is also on the Editorial board of esteemed National and overseas journals. She has obtained the Post Graduate Diploma in Hospital &Healthcare Management, Medico-Legal systems and Clinical Research from the Symbiosis International University.