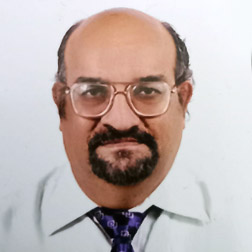 Profile Description
Dr. N. Kannan did his graduation from Govt. Dental College Hyderabad in 1990. He joined S.D.M.C.D.S., Dharwad as a tutor in 1991, was instrumental in starting a P.G. course in Oral Medicine and Radiology at the S.D.M.C.D.S. He completed his Post Graduation in Oral Medicine and Radiology in 1995 and worked as the staff there till 2002 following which he worked as staff in Darshan Dental College, Udaipur, Rama Dental College, Kanpur, and College of Dental Sciences, Davangere. He joined Narayana Dental College and Hospital in 2006 and has been working there as the Professor and Head of the Department since then. He has done his Diploma in Business Management from ICFAI, Tripura, Diploma in Hospital Management from NIHFW, New Delhi, and M.Sc. Biotechnology from Periyar University in Salem and his Ph.D. from Lincoln University, Malaysia.
He has served the Indian Academy of Oral Medicine and Radiology as an office bearer in various posts like Jt. Secy, E.C. Member, Vice President, and Honorary General Secy. He has also served as an active office bearer of IDA Nellore branch in various capacities as E.C. Member, Vice President, Hon. Branch Secretary and President of the branch and conducted various screening and treatment camps during this period.
He is well known for his academic interests and has delivered around 17 Guest Lectures and 17 Keynote Lectures at National and International Conferences and has been delivering Rapid Reviews for PGs for several years. He has around 42 articles to his credit and has won various awards like Best Paper Award, Best Reviewer Award, Outstanding Academician Award, and Best Researcher Award from various National Organizations.
Fellowships bestowed upon him include FICD, FIMSA, and FDS RCPS (Glasgow), and also been appreciated with Certificates and Plaques for his outstanding contributions to the specialty by the Indian Academy of Oral Medicine and Radiology. He has a PCT Patent, an Indian Patent, and is the exclusive dentist in India whose project has been selected and awarded funds by PMAC Union Govt. of India, Ministry of MSME for his PCT Patent with a fund allocation of Rs. 15 Lakhs.
Dr.N.Kannan's keen interests include teaching, practising, and doing research related to Oral Medicine and Radiology with particular emphasis on OPMDs, Oral Cancers, Orofacial Pain, and Geriatric Dentistry especially Medically Compromised Dental Patients. He has been instrumental in organizing screening and treatment camps for the elderly, particularly those in Old Age Homes, and has been a keen participant in these programs as a doctor and as a philanthropist donating generously and liberally for their welfare. He has also guided several PG students in doing research on topics related to Medically Compromised dental patients.
Dr.N.Kannan is an accomplished poet in English and Telugu and is a member of the Nellore Writers association and has also published a book of English Poetry. He has been honored on various occasions by the association. Dr.N.Kannan is also a Grandmaster in Usui Reiki Therapy which he uses for the benefit of the patient community effectively and appropriately. Dr.N.Kannan is also a keen chess player and has won several prizes for the same.