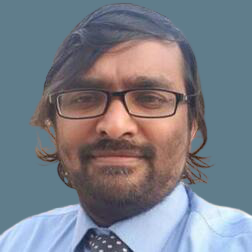 Profile Description
Dr. Sunil Babu Kotha is currently working as Assistant Professor and Program Director for Pediatric Dentistry Program in College of Dentistry, Riyadh Elm University, Riyadh, Saudi Arabia (KSA). Before this present position, he worked as a Lecturer and Reader in Mamata Dental College, Khammam, Telangana, India. Dr. Sunil Babu Kotha graduated from KLE Society's Institute of Dental Sciences, Belgaum, Karnataka, India, in 2001, followed by Masters in Pedodontics from Government Dental College & Hospital Hyderabad, India, in 2006.
Dr. Sunil Babu Kotha a life member of the Indian Society of Pedodontics and Preventive Dentistry (ISPPD) and Federation of Special Care Dentistry (FSCD). He is also a regular member of various associations, which include the Arab Society for Disability and Oral Health (ASDH), Saudi Dental Society (SDS), International Association of Dental Research (IADR), and International Association of Pediatric Dentistry(IAPD). He was a member of the Curriculum Committee, instrumental in developing and updating the Pediatric Dentistry curriculum at the University. He was an active member of the Quality Assurance team and have supervised certain e-learning activities at Riyadh Elm University.
Sunil Babu Kotha supervised undergraduate students, where they were awarded the first prize in the 1st Saudi Dental Education Conference held in Saudi Arabia in 2018. He also won the best poster award in the 1st International Association of Dental Research (IADR) Saudi Arabian Division Research Symposium 2020. Dr. Sunil Babu Kotha areas of interest include Early childhood Caries, Minimal intervention Dentistry, Special care dentistry. He has various international and national publications and has contributed to chapter in textbook.